Improved SEO -What we did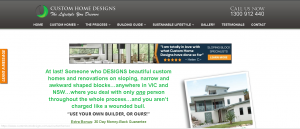 For a client website we recently completed a website audit and keyword research. This showed that "Slopping Site Home Designers Sydney" and "Slopping Site Home Designers Melbourne" were high value key phase targets within the custom homes designs marketplace.
The client Custom Home Designs are able to design beautiful custom homes and renovations on sloping, narrow and awkward shaped blocks…anywhere in VIC and NSW. They can work with any builder- either theirs or yours. That is what makes them unique- they aren't locked into any one builder or supplier. So you can have a truly unique home or renovation. This needed to be reflected in their website Custom Home Designs.
We also ensured that there was no mixed SSL content. The website has for several years had a valid SSL certificate but with the recent Google algorithm update that has verified that Google will begin blocking any web page that has "mixed content" that even if it has a valid SSL certificate. Note: Does your website have a valid SSL certificate? if it doesn't contact us now to ensure your website is not being penalised by Google
The Improved SEO Results
The overall results were better than expected and a positive return on investment was achieved. The website has been future proofed against Googles upcoming update which will be penalising websites that either don't have SSL certificates or are delivering mixed content. You can read why Google is saying all websites must have SSL certificates here.
The Next Steps
In the future to keep improving the organic SEO results for Custom Home Designs we will be working on utilzing Google Snippets but that is a completely different post….